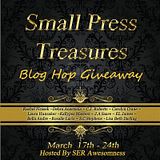 Small Press Treasures Blog
Hop Giveaway!
Hosted by
Sam, E &R's Awesomeness
Wicked Giveaway#2 of
Water of Life
by Rhys Astason
Description from Goodreads
Gracen Ellison had settled into a very comfortable, and on the surface, 'by-the-book' routine as a doctor with the American Federation's Elite Medical Corps. But the top brass were unaware that routine consisted of illicitly lusting after one the Navy's top Special Forces operative.

Master Chief Jackson Monroe lost more than just his leg in an assignment gone to hell; he lost the privilege to lead his team. After a year of grueling rehab, he's proven that even with his prosthetic, he's still able to lead his men on the field. Unfortunately, the Navy doesn't see it that way. Instead of settling for sitting behind a desk, Jackson plans to opt out of the Navy. On the night of his retirement, however, he's pulled back in for one last mission: protecting Gracen as they head into a warzone.



Soon they find themselves with their helicopter on the ground and facing an existence that leaves Gracen and Jackson more than human as they're thrown against an enemy they had little idea even existed.
Read My Review of Water of Life
Giveaway Details
This blog hop is all about showing some love to those indie gems we have found during our reading adventures!
I am so glad I got the opportunity to read and review Water of Life! I am really looking forward to the sequel! So I'm excited that Rhys Astason has generously provided three ebook copies of her wonderful science fiction romance for this giveaway. Enter for a chance to win an ebook copy of this indie gem before time runs out!
To Enter:
1. Be a follower of Wickedly Bookish
2. Be a U.S. resident
3. Be 18 years old or older
4. Fill out the Rafflecopter below
5.
Don't forget to check out our second giveaway for this hop of
Dreaming of Beauty
6. Make sure to check out the other great giveaways on the Linky below.
Entries can be gained in a variety of ways as stated in the Rafflecopter. In order to be fair to everyone, all entries will be checked so please be honest! If I find an invalid entry, it will be removed from the giveaway. As following Wickedly Bookish is a mandatory entry, if I do not find your name in my list of followers, all your entries will be removed from the giveaway. I would much rather skip over this stuff and just get to the fun, but it has happened before, so I need to state it all before the entries are collected.
Winners will be chosen within 24 hours of giveaway's end and will be notified by email. If you are a winner, you will be expected to claim your prize within 48 hours of receipt of email or another winner will be chosen.
Have fun and thanks for stopping by!
a Rafflecopter giveaway