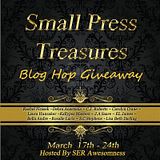 Small Press Treasures Blog
Hop Giveaway!
Hosted by
Sam, E &R's Awesomeness
Wicked Giveaway#1 of
Dreaming of Beauty
by Kristen White
Winner of Wickedly Bookish's Best YA of 2011
Description from Goodreads
A three hundred year old curse, a timeless legend, a love strong enough to last forever...

Fifteen year old Chloe Duncan finally has her Prince Charming and her life could not be more perfect. But after she meets a mysterious new boy, Logan Salinger, on the first day of school and is attacked by a woman's hand that suddenly appears from the supply cabinet in art class, her story-book romance quickly unravels. Certain that the incident in her art class and the other bizarre things that have happened to her are due to an undiagnosed brain tumor, Chloe struggles with school and her relationships. Over the holiday break, during a much needed vacation, she travels to France with her family and it is there, at Manoir de Kergrec'h, the enchanting castle by the sea, that she learns about Camille Deveraux who lived at the manor over three hundred years ago. But things are stranger in France then they were back home, and Chloe soon discovers that she was Camille Deveraux, the real Sleeping Beauty. Now she knows the reason for her strange connection to Logan and she hopes that their love can finally break the curse that has plagued her for over three hundred years
Read My Review of Dreaming of Beauty
Giveaway Details
This blog hop is all about showing some love to those indie gems we have found during our reading adventures! Dreaming of Beauty is definitely one of those gems for me! Kristen White and I would like to give you all the opportunity to love this refreshing retelling of the tale of Sleeping Beauty. Enter for a chance to win a paperback copy of Dreaming of Beauty! Kristen White has generously offered five paperback copies for this giveaway so enter now before these indie gems run out!
To Enter:
1. Be a follower of Wickedly Bookish
2. Be a U.S. resident
3. Be 16 years old or older
4. Fill out the Rafflecopter below
5.
Don't forget to check out our other giveaway for this hop of
Water of Life
!
6. Make sure to check out the other great giveaways on the Linky below!
Entries can be gained in a variety of ways as stated in the Rafflecopter. In order to be fair to everyone, all entries will be checked so please be honest! If I find an invalid entry, it will be removed from the giveaway. As following Wickedly Bookish is a mandatory entry, if I do not find your name in my list of followers, all your entries will be removed from the giveaway. I would much rather skip over this stuff and just get to the fun, but it has happened before, so I need to state it all before the entries are collected.
Winners will be chosen within 24 hours of giveaway's end and will be notified by email. If you are a winner, you will be expected to claim your prize within 48 hours of receipt of email or another winner will be chosen.
Have fun and thanks for stopping by!
a Rafflecopter giveaway