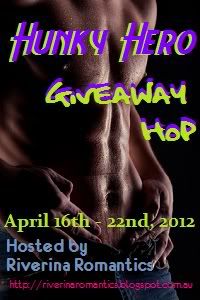 Hunky Hero Giveaway Hop


Hosted by Riverina Romantics
Hey everyone! Are you excited for the Hunky Hero Giveaway Hop? I know I am! So, who is your favorite hunky fictional hero? You know, the one that gives you chills on the page and off. The one you can't stop thinking about long after you've put the book back on the shelf? That one amazing hunkster that would be impossible to cast for a movie because no celeb could ever live up to his hunkyness? Yeah, that one! The one you just spaced out and drooled all over yourself just thinking about. Well he and heroes like him are the ones we want to honor with this hunky hop hosted by Riverina Romantics.
Each blogger on the linky is having a giveaway of a book or item related to their favorite hunky hero so don't forget to check them all out after you're done here! Are you ready to get to know some heroes you may not have met before? Well, here at Wickedly Bookish, we'd like you to relax and get to know....
Wicked Giveaway Of:
Once Burned
Jeaniene Frost
Night Prince #1
Genre: Paranormal Romance
Vlad! I fell in love with him as a kick-ass secondary character in the Night Huntress series and almost SQUEEE'd myself to death when his own series was announced. This summer is going to have some serious sizzle when his sexy pyrokinetic ass hits bookstores June 26th in the US and July 5th in the UK. Here is the description from Goodreads:
She's a mortal with dark powers...





After a tragic accident scarred her body and destroyed her dreams, Leila never imagined that the worst was still to come: terrifying powers that let her channel electricity and learn a person's darkest secrets through a single touch. Leila is doomed to a life of solitude... until creatures of the night kidnap her, forcing her to reach out with a telepathic distress call to the world's most infamous vampire...





He's the Prince of Night...





Vlad Tepesh inspired the greatest vampire legend of all — but whatever you do, don't call him Dracula. Vlad's ability to control fire makes him one of the most feared vampires in existence, but his enemies have found a new weapon against him – a beautiful mortal with powers to match his own. When Vlad and Leila meet, however, passion ignites between them, threatening to consume them both. It will take everything that they are to stop an enemy intent on bringing them down in flames.
One winner will receive a pre-order of Once Burned the first book in Vlad's very own series! I'm so excited to get my hands on this one as I am such a Vlad fangirl, that I couldn't help sharing it with one of you! Now, since the release dates for the UK and US are different, and the Book Depository ships from the UK, here is how we're going to do this.
If the Winner is US: Your pre-order of the paperback will be with Amazon and you will receive the book June 26th.
If the Winner is INT: Your pre-order will be with The Book Depository and you will receive the book July 5th.
Giveaway Details
Entries can be gained in a variety of ways as stated in the Rafflecopter. In order to be fair to everyone, all entries will be checked so please be honest! If I find an invalid entry, it will be removed from the giveaway. As following Wickedly Bookish is a mandatory entry, if I do not find your name in my list of followers, all your entries will be removed from the giveaway. I would much rather skip over this stuff and just get to the fun, but it has happened before, so I need to state it all before the entries are collected.
Winners will be chosen within 24 hours of giveaway's end and will be notified by email. If you are a winner, you will be expected to claim your prize within 48 hours of receipt of email or another winner will be chosen.
To Enter:
1. Be a follower of Wickedly Bookish
2. Make sure The Book Depository ships to your location
3. Be 18 years old or older
4. Fill out the Rafflecopter below
5.
Make sure to check out the other great giveaways on the Linky belo

w.
a Rafflecopter giveaway