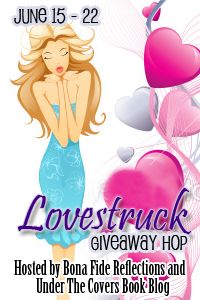 Lovestruck Giveaway Hop (INT)
Ever since I read Firelight earlier this year for review, I have definitely been lovestruck with the Darkest London series and author Kirsten Callihan. I've already given away Firelight here on Wickedly Bookish so I figured what better way to celebrate then offer you guys a chance to win the next book in the series Moonglow. This book doesn't release until July 31st in the US and August 2nd for you INT readers so this giveaway is for a pre-order.
This series has an incredibly sexy cast of characters and irresistibly combines historical fiction with urban fantasy. I'll be reviewing this title closer to release date! So without further ado, let me introduce you to Moonglow.
Genre: Historical Romance, Paranormal Romance, Urban Fantasy
Once the seeds of desire are sown . . .

Finally free of her suffocating marriage, widow Daisy Ellis Craigmore is ready to embrace the pleasures of life that have long been denied her. Yet her new-found freedom is short lived. A string of unexplained murders has brought danger to Daisy's door, forcing her to turn to the most unlikely of saviors . . .

Their growing passion knows no bounds . . .

Ian Ranulf, the Marquis of Northrup, has spent lifetimes hiding his primal nature from London society. But now a vicious killer threatens to expose his secrets. Ian must step out of the shadows and protect the beautiful, fearless Daisy, who awakens in him desires he thought long dead. As their quest to unmask the villain draws them closer together, Daisy has no choice but to reveal her own startling secret, and Ian must face the undeniable truth: Losing his heart to Daisy may be the only way to save his soul.
Giveaway details
This giveaway is open to all readers of Wickedly Bookish (INT). One lucky reader will win a pre-order of the Mass Market Paper back edition of Moonglow by Kristen Callihan.
In the event the winner is a US reader, their copy of Moonglow will be shipped via Amazon Prime and you should recieve it on release day, July 31st.
In the event the winner is a CA or INT reader, their copy of Moonglow will be shipped to via The Book Depository on release day, August 2nd.
Entries can be gained in a variety of ways as stated in the Rafflecopter. In order to be fair to everyone, all entries will be checked so please be honest! If I find an invalid entry, it will be removed from the giveaway. As following Wickedly Bookish is a mandatory entry, if I do not find your name in my list of followers, all your entries will be removed from the giveaway. I would much rather skip over this stuff and just get to the fun, but it has happened before, so I need to state it all before the entries are collected.
Winners will be chosen within 24 hours of giveaway's end and will be notified by email. If you are a winner, you will be expected to claim your prize within 48 hours of receipt of email or another winner will be chosen.
To Enter:
1. Be a follower of Wickedly Bookish
2. Provide a valid email address
3. If you are an (INT) reader, please make sure the Book Depository ships to your location
4. Be 18 years old or older
5. Fill out the Rafflecopter below
6. Don't forget to keep hopping!
a Rafflecopter giveaway