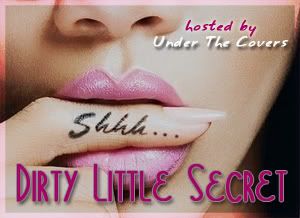 Dirty Little Secret is a weekly meme hosted by the lovely ladies over at
Under the Covers
. This week's question is...
"
Who is your author crush? And if you were to write a fan letter to them, what would you say?
"
I am writing this letter to you now to let you know I have the deepest love and respect for your writing. My favorite series of all time is your Black Dagger Brotherhood series. Now that you know I love you so much, I was hoping you would do me a favor. Please make me the leading lady for Xcor's book! I haven't been able to stop thinking about him since I finished Lover Unleashed and I think we would be perfect together. I have already gotten the ok from my hubby to get down and dirty with this fictional character who I wish wasn't so fictional so please go ahead and write those amazing steamy scenes you are so good at, featuring Xcor and I. You could even make the tension that much better by writing me in as Wrath's long lost daughter that he never knew about after getting a human girl pregnant. I mean , what's one more obscure relative? Everyone seems to be part of his family line in some way or another these days. Anyway, take care, I love you, adore that new dark red silk robe you've been wearing to bed these days.