Shameless
Anne Stuart
House of Rohan #4
Historical Romance, Harlequin
Rating 5
I was graciously provided with a copy for review by Netgalley for Harlequin. Having never read this series before with the exception of a short story, I was pleasantly surprised to discover that this book could easily be read on its own. I absolutely loved the setting, characters, and sultry situations the couple gets themselves into.
Bennedick Rohan is in the market for a new wife after the loss of his previous two to childbirth. He is also in the market for a mistress. Rohan knows what he wants, a subservient wife to provide him with an heir, and an adventurous mistress to please him in bed. When he meets Melsande Carstaris, widow and good Samaritan, he finds neither, and both.
I love the contrast of these two characters. Melisande is sweet and naively virginal to the pleasure of the flesh as her first marriage was to an elderly man. She spends her days helping former prostitutes find a better life for themselves by teaching them a trade and giving them a place to stay while they get on their feet... and off their backs. Sorry couldn't help it! Benedick has set out to dedicate himself to experiencing all the pleasure and depravity he can until he meets Melisande and finds himself annoyingly infatuated with her. These two are so different from each other that they are absolutely perfect together rattling off dry quips and finding themselves in compromising situations.
This was a great read. It really had it all, humor, romance, and a few thrills towards the end. I will most definitely be starting the series from the beginning so I can find out more about the Heavenly Host, a secret deviant society. I also am interested to read the stories of some of the couples briefly mentioned in this story. So I guess while I wait for the next installment to come out, (I hope it's about Brandon and Emma!), I will be catching up on what I missed out on!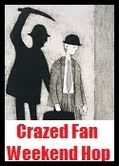 Don't miss out on this weekend's blog hop over at
The Blog Entourage
where I am a weekly guest entertainment blogger.