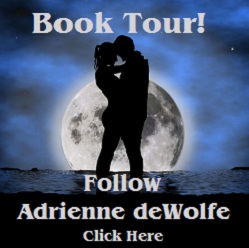 I know it's been all about the book tours lately here ate Wickedly Bookish, but today I have a very special treat for all of you aspiring authors out there! Adrienne deWolfe is guest blogging today to share her tips and success as an award winning romance author! So without further ado, please give her a warm welcome!
How to Write Wildly Popular Romances
If you're an aspiring author who wants to break into the commercial fiction market, genre Romance is a good place to start, thanks to the sheer volume of books that are published each year.
Romance is a $1.36 billion industry, dominating mass market, paperback sales in North America, Europe, and Australia. For more than 30 years, Romance has been considered the hottest selling category of adult paperback fiction in the world. The publisher, Harlequin Romance sells 4 books per second! Every year, 78 million people around the globe read at least one English-translation Romance novel.
Those statistics aren't too shabby for an industry run largely by women, written mostly by women, and read almost exclusively by women.
When I set out to write How to Write Wildly Popular Romances
, the first book in my e-series,

The Secrets to Getting Your Romance Novel Published
, I wanted to help writers understand the unique requirements that Romance editors search for in book-length manuscripts.
For instance, in a Romance novel, relationship equals plot. Or to put it another way, your plot is dependent upon the course of the love story. If you stray too far from the love story with spooky supernatural subplots, chase scenes, murder investigations, or historical research, you will lose the interest of your reader, and therefore, the editor who you're hoping will buy your manuscript.
Here's another tip: A hero needs more than bedroom talent to satisfy your reading audience. While it's true that many women read Romance to enjoy the vicarious thrill of falling in love, readers want to be moved emotionally by a man who treasures the heroine as a woman.
In polls conducted by Romance Writers of America, readers often rank intelligence and humor as the top two traits that they prefer in their Romance heroes. On a scale of 1 to 10, "physical attractiveness" often ranks dead last!
In my ebook series,

The Secrets to Getting Your Romance Novel Published
, I help writers master the techniques that will help them get their novels published. The first book in the series, How to Write Wildly Popular Romances
, is designed to be an introduction to the genre. It features (among other things) the 14 bestselling story archetypes in commercial Romance as well as 8 story taboos that are prohibited in most Romance novels.
In the meantime, keep the faith, and keep writing!
Originally published by Bantam and Avon Books, Adrienne deWolfe's five novels have won 9 awards, including the Best Historical Romance of the Year. She is currently writing her 6th Romance, An Imperfect Angel (Book III in her Naughty or Nice Series,) which will be available for e-readers this Autumn. To learn about Adrienne's other historical Romances (scheduled for release this year), visit her virtual home,
WritingNovelsThatSell.com
, or
subscribe to her newsletter
. You can also follow Adrienne on
Twitter
,
Facebook
,
and
Google Plus.
Thank so much Adrienne for stopping by Wickedly Bookish and sharing your amazing tips! Hey readers, are you working on your own novel? Would you like to get some helpful tips and input on your own unpublished manuscript? For the month of May, Adrienne is offering a free critique of the first chapter of your manuscript to one lucky giveaway winner! You can enter to win here.
Don't miss out on her other great upcoming giveaways:
June: Win an autographed set of her Wild Texas Nights series.
July: Win an autographed set of her Jones seires